Skip Navigation
Website Accessibility
The Bird Store and More is a family owned and operated business dedicated to bringing the Best of Nature into Your Backyard.
Founded by Bill and Nancy in 1993 the Bird Store and More has grown and evolved over the years but our love of nature remains the same and we want to share it with you!
You will always find Bill, Nancy or Dezeree on hand to help you out! Got a question, problem or story to tell? Give us a call or just stop by, we can't wait to hear from you!
Meet The Crew:

Bill
The visionary behind the Bird Store, Bill is our fix it guy! He's the builder, the mechanic, and the pilot, clockmaker, jeweler, and Bear Pole builder! He can make a "jig" for anything. If its mechanical he'll fix it, or invent it, and he keeps this place running. He is also the builder of the Secret Garden Shed which houses New England's largest Cuckoo Clock!
When Bill's not at the store you won't find him because he's out riding his motorcycle!

Nancy
Bill's wife and business partner keeps the Bird Store behind the scenes running smoothly. Nancy has also researched and written every newsletter since 1993, and credits customer questions as the inspiration for many of the articles!
When not at the Bird Store you can find Nancy gardening, skiing, or riding motorcycles with Bill.

Dezeree
Dezeree is the "go to girl". Dezeree runs the sales floor and is the decorating mastermind. Watch out when Dezzie's decorating or you may get turned into a display. Her upbeat personality will make your day!
When she's not here you can find her chasing birds around the country, and enjoying a glass of good beer with her husband Ben.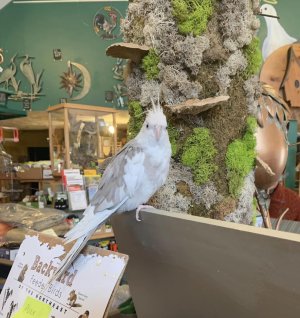 Marshmallow & Ditto

The Bird Store Security team, they keep their eye on you while keeping you entertained.